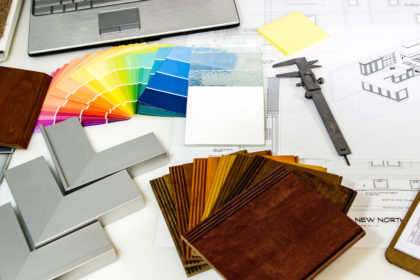 Which Materials to Update an Income Property With
As the owner of rental or income properties, you may want to replace some of the items inside to either update or improve the overall look of the unit while creating durability and saving you money. Often this is thought to be a stressful and time-consuming project, but with a bit of research, this interior project can be done quickly and efficiently.
Updating Cabinets of an Income Property
Improving the cabinets, both in the kitchen and the bathroom areas, can be a quick and inexpensive way to instantly transform the look and improve the overall feel of your rental or income properties for a fraction of the cost. Often the cabinetry is in fine condition overall but needs a facelift to enhance the exterior look of the unit.  This can be accomplished for a fraction of the cost by purchasing new doors for the cabinets only.
From a simple unfinished pine door to an elaborate piece with glass inset into the frame, the installation process is more simplistic. If these cabinet doors are going into rental or income properties, then you may consider buying the high quality, yet inexpensive, PVC cabinet doors now on the market.  Available in both matte and high gloss finishes, these PVC doors are strong, durable and easy to clean and maintain for your income properties.
This is also the time to consider adding new hinges to the cabinets.  There are many hinge styles out there from the old style "simple" butterfly close hinge to the more modern "soft close" styles. Since the hinges hold the doors onto the cabinets they need to be durable and able to withstand often times harsher uses at an income property.
Replacing Countertops in an Income Property
Replacing worn out countertops is another way to spark up the image of your income properties, without killing your budget.  New countertops are relatively easy to install on top of your newly refurbished cabinetry and will greatly improve the overall look of your income properties.
Available in a large variety of colors and materials, there are many options from which you can choose.  If you are looking for a cost-effective yet durable countertop in your income properties, then laminate countertops may be your best bet. With a large variety of color options to faux marble and wood motifs as well, this upgrade will make a large difference in the overall appearance and comfort of your income properties without putting a large dent in your budget.
Consider a Professional Remodeling Company
If you are an income property owner, you need to consider the budget, function, durability, and style when choosing materials. Be sure to take all of these options into account when planning your next income property remodel. Call a professional remodeling company today to help you with all of your income property needs.