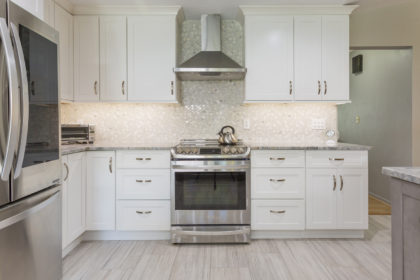 Which Renovations Add Value to your Home and which might Only Add Personal Value
Whether you are considering a large home remodel or a small kitchen upgrade, one of the many things you'll want to consider is whether or not this renovation will add value to your home.  Most homeowners don't want to spend a lot of money on a project if they are not going to get a good return on their investment.  Here are some tips on whether a job will add value to your home or not.
Do Kitchen Remodels Add Value to a Home?
Kitchen are one of the three major things that people look for when buying a home: the location needs to suit them, the bathroom better not be small, and the kitchen better 'WOW' their guests. It seems likely then that a kitchen remodel would be a great place to invest when deciding what remodel. And yes, this the case, but only to a certain point.
Deciding to remodel your kitchen is a great investment, often returning more than 100 percent of the cost. According to a study by Remodeling magazine, the markets in Washington, D.C., Minneapolis, Chicago, Atlanta, San Francisco, and San Diego all offered triple-digit returns on a kitchen remodel.
Kitchens are where people spend time in their homes, so it's also important to potential buyers that the kitchen is up to par.

Will remodeling the bathroom help to increase value?
Like the kitchen, bathrooms are important when determining the value of a home. Buyers care a lot about the bathroom, because after the kitchen, it's one of the most used spaces in the home. The cost of upgrading the tub, tile, floor, toilet, sink, vanity, and fixtures all can be recoup, according to past sales' figures from around the country.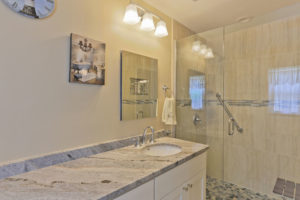 A dated bathroom will never help to add value to your home. If your home is in great shape, with a beautiful kitchen, spacious bedrooms, and a great location, then a pink bathroom from 1972 is going to go along way in making the buyer rethink the home. Therefore, remodeling the bathroom is a call you must make depending on the current state of the throne room.
What about adding a bathroom to a home?
If your home has one bathroom or if you don't have a master bathroom, adding one will not only be useful for you while you live there but it can also increase your home's value.  If you add an additional bathroom to your home with at least a shower stall, this will drive up the value of your home; the more bathrooms, the better!
Do hardwood floors increase add value to a home?
Hardwood floors can definitely go a long way in adding value to your home. Hardwood flooring is the preferred flooring choice for home buyers since it is beautiful, natural, and stands the test of time. Likewise, consistency throughout the house is extremely important. A buyer can get over carpet in the bedrooms, but they like to see hardwoods in the main areas of the house, like the living room, kitchen, and the hallways.
Increasing Value with a Deck or Patio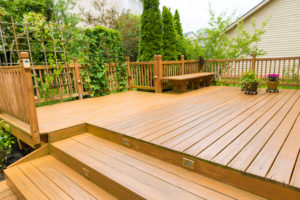 Nothing enhances a yard like a wood deck. Increasing usable outdoor space by adding a deck or patio is a great way to add value to your home. Decks and patios that are visible from the front also increase the curb appeal of your home.  Besides the big selling features mentioned above, an outdoor deck or patio goes a long way in adding value to a home. One of the ways it does this is by seemingly increasing the livable space of the home. When a potential buyer is touring the home, a large, well-built deck will feel like just more space for them to imagine living in.
Should I upgrade my home's energy efficiency?
Adding any type of energy efficient products such as windows, appliances, and insulation will not only save you money but it will add value to your home. Home buyers love to know that their new home will cost them less money in the long run. Do not go overboard here though, a buyer would much rather save $2,000 than to know that the insulation in the attic was imported from Italy.
Does replacing the garage door add value?
A nice-looking garage door goes a long way in adding value to your home. Garage doors add curb-appeal and will get you back almost every dollar you spend on it when you sell your house. People like their home to look nice from the outside, and a garage door is a big part of that (literally it can sometimes be 50% of the front of the home).
What about a garage addition?
If your home does not have an enclosed garage space, you may want to consider an addition.  One, two and three car garages will increase the square footage, storage space, and value of your home.
Does fancy landscaping add value?
A general upgrade to your home's curb appeal could marginally increase its value but high end landscaping designs with specialty items such as fountains and other ornamental structures will not add value.
Does replacing the roof add value?
Sometimes it is necessary to replace your roof.  This is a costly and time consuming job but if the roof is leaking, a potential buyer will never get past it. Therefore, a roof pays for itself in a way, since without a replacing a leaky roof, you wouldn't get anything. Other than that, a new roof won't have much a return on investment.
Things That May Not Add Value to Your Home
While a kitchen upgrade does add value, the high cost of a gourmet kitchen will not.  Too many custom design and features may suit your taste but it will not add any more value than a typical kitchen upgrade.
Installing a whirlpool tub in your master bath will add a wonderful place for you to relax and unwind.  However, whirlpools do not typically add monetary value to a home.
Swimming pools are typically a feature that homeowners either want or they don't want, therefore, you could be taking a gamble on home value if you add a pool.
Some Things to Keep in mind when Remodeling your Home to Add Value
When it comes time to pick out details for your home remodel or renovation, keep a few things in mind.First, choose materials and style that will hold up over time. All-wood cabinets, commercial-look appliances, natural wood or stone floors, and stone countertops all will survive the test of time and will not look outdated in 5 years. Walk-in showers are becoming more popular with the average home buyers than tubs in bathrooms; they are easy to clean, take up less space, get used more often, and are a great way to add beautiful detail. Don't spend money remodeling a bathroom if your home only has one bathroom; your money is probably better spent adding a second bath.Don't remove the charm of older homes. If your home was built in a different era, that adds charm. Don't remove this charm in place of a modern trend that will go out of style in a few years.
Finally, if you're not planning to move out of your home any time soon, spend your money renovating in a way that will make you most happy. The value you get out of your own use and enjoyment of your home can't be calculated. So before you begin remodeling your home, consider doing it in a way that you will love!